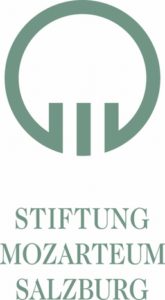 For more than 250 years Wolfgang Amadé Mozart has fascinated people all over the world through his works and his personality. The Salzburg Mozarteum Foundation is the leading international institution for preserving and disseminating this invaluable cultural heritage, and presents the very many different facets of Mozart to the world.
The mission of the Salzburg Mozarteum Foundation is to make Mozart's music, his life and his personality accessible to all people and generations. As a non-profit organisation the Mozarteum Foundation is committed to doing this in a form always relevant to our time by means of varied activities in the three spheres of concerts (Mozart Week, Dialogues Festival and Concert Season), research and museums (Mozart's Birthplace and Mozart Residence). The Mozarteum Foundation creates a bridge between tradition and contemporary culture and enable people to analyse the composer from different perspectives, thereby giving them plenty of food for thought.  Knowledge about Wolfgang Amadé Mozart serves as the basis and source of inspiration for creative processes and academic insights.
The association known as the Salzburg Mozarteum Foundation was founded in 1880 by citizens of the city of Salzburg as the 'International Mozarteum Foundation' and is rooted in the Cathedral Music Association and Mozarteum that dates from 1841.  Mozart's widow, Constanze, who lived in Salzburg from 1824, as well as the two sons Carl Thomas and Franz Xaver Wolfgang, donated the majority of his personal belongings and memorabilia to the association.  The Salzburg Mozarteum Foundation thus owns the largest collection worldwide of original letters, portraits and instruments of the Mozart Family.
www.mozarteum.at