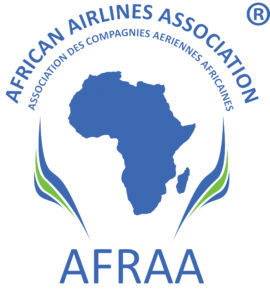 The African Airlines Association, also known by its acronym AFRAA, is a trade association of airlines which hail from the nations of the African Union. Founded in Accra, Ghana, in 1968, and today headquartered in Nairobi, Kenya, the primary purposes of AFRAA are to foster commercial and technical co-operation among African airlines and to represent their common interests. AFRAA membership comprises of all the major intercontinental African operators and the Association's members represent over 85% of total international traffic carried by all African airlines.
In the last 50 years, AFRAA has been instrumental in developing and articulating air transport policy issues in Africa and helping to build a formidable industry. It has been in the fore-front of major initiatives in the air transport field in Africa, sensitizing airlines to take concrete actions for cooperation in Operational, Legal Commercial, Technical, Information Communication Technology (ICT) and Training fields.
AFRAA has also been instrumental in lobbying African Governments, the African Union, the African Civil Aviation Commission and other regional and sub-regional organizations on actions to be taken to develop an efficient air transport system. AFRAA has been a catalyst for major aviation policy decisions in the continent.
Vision: A sustainable, interconnected and affordable Air Transport industry in Africa where African Airlines become key players and drivers to African economic development.
Mission: To promote, serve African Airlines and champion Africa's aviation industry.
Objectives: AFRAA as an association has the following strategic objectives:
Safe, secure and reliable air transport

Promote the industry best practices to support safe, secure and reliable air transport in Africa
Enhance the visibility, reputation and influence of African Airlines in the global Aviation industry.
Sustainable air transport
Advocate for the reduction of costs of air transport services in Africa by reducing taxes, fees and charges;
Strive for the implementation of cost-effective Human Resource Development;
Lobby for market access to increase revenues and enhance connectivity for the aviation sector in Africa;
Cooperation
Undertake the implementation of joint initiatives aimed at reducing operating costs for airlines, increase revenues and market share;
Data intelligence
Become a hub for data, intelligence and expertise on the African Aviation Industry.
Joint Projects: The Association has set up Task Forces/Steering Committees as the vehicle to reduce airline costs, increase their revenues, address members' common interest and adopt industry best practices. These include:
• Fuel Purchase
• Route Network Coordination
• Ground Handling
• Cargo
• Distribution
• Training
• Technical and Operations
• Governance
• Aeropolitical