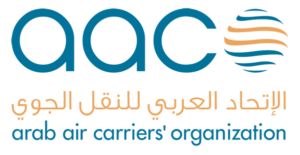 The Arab Air Carriers' Organization "AACO", established in 1965 within the framework of the Arab League of States, is the Regional Association of the Arab Airlines who have their home base in country members of the Arab League. At present, AACO has 34 Member airlines in 19 countries.
AACO, having its headquarter in Beirut – Lebanon, is a non-profit organization that serves the Arab airlines, represent and defend their common interests regionally and globally, through creating joint frameworks that aim at developing economic and safe operations for its members.
In 2018, With a fleet of over 1,339 aircraft, AACO member airlines transported 223.9 million passengers and 6.9 million tons cargo. Moreover, in 2017, the Aviation Industry supported 6 million jobs in the Arab world and around $164 billion in economic activity, which is equivalent to 7.8% of the total GDP.
AACO cooperates with regional and international organizations, governmental and non-governmental bodies, airlines, manufacturers and service providers, on a wide spectrum of issues that includes industry, regulatory, legal, and operational issues.
AACO works constantly on enhancing the knowledge base of its members and partners through a number of general and specialized bulletins. Moreover, AACO strives in the light of its objectives to provide forums for members and partners to enhance the knowledge base and improve cooperation amongst them, through the AACO AGM, the Business Technology Forum, the Technical Forum, the Aeropolitical Forum, and the Fuel Forum.
AACO has access to a wide array of air transport data which covers AACO member airlines operations and financial data, worldwide traffic & capacity data, worldwide fleet data, worldwide airports data, and worldwide tourism data. AACO database is the most comprehensive, accurate and reliable database available on the Arab air transport industry.
The Arab Air Carriers' Organization being the platform of cooperation between its members and various stake-holders in the aviation industry, established partnership programs: One is the Industry Partners, where aviation stakeholders benefit from AACO events and activities to strengthen their relations with member and partner airlines, and the second is the Partner Airlines, where non- Arab Airlines can join AACO and benefit from its activities.